博物馆展柜是现代展馆里面必不可少的展览器具。博物馆将从各个渠道或组织征集过来的文物进行分类,编制和记载、按照不同的类别方式进行展览。优质的展柜是博物馆藏品、展出、保护和珍藏的重要手段和重要场所,那么博物馆展柜在设计的时候需要注意哪些方面呢。小编接下来就为大家整理一下
  博物馆展柜主要是用于存储和展览文物等物品的一种展柜,这也就要求其具有一定的性能,下面就让小编来告诉大家博物馆展柜设计之初需要考虑哪些点。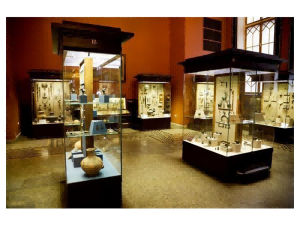 Museum display cases are indispensable exhibition equipment in modern exhibition halls. Museums classify the cultural relics collected from various channels or organizations, compile and record them, and display them in different categories. High-quality exhibition cabinets are important means and places of museum collection, exhibition, protection and collection. So what aspects should be paid attention to when designing museum exhibition cabinets? Xiaobian next for you to sort out
  Museum exhibit ark basically is a kind of exhibit ark that is used at storing and exhibiting cultural relic to wait for an article, this also asks its have certain performance, let below small make up will tell everybody what point needs to consider at the beginning of museum exhibit ark design.
  1.展柜的温湿度控制:展柜有一定的温湿度是文物必备的、基本的保护措施。书画、纺织品、竹器、木器、漆器、骨器、油画、壁画、天然皮革等对温度敏感的文物,如果展柜内出现温湿度不稳定,就会引起这些文物的起皱、变形、开裂等严重后果。博物馆在展示文物的同时,要时刻牢记保护文物的重要职责,不能以损害文物为代价进行陈列展览。文物是不可再生的、传承文化的载体,要不惜一切代价去保护。
  1. Temperature and humidity control of the exhibition cabinet: a certain temperature and humidity of the exhibition cabinet is a necessary and basic protection measure for cultural relics. Painting and calligraphy, textiles, bamboo ware, wood ware, lacquer ware, bone ware, oil painting, fresco, natural leather and other temperature-sensitive cultural relics, if the temperature and humidity in the display cabinet is not stable, it will cause these cultural relics wrinkle, deformation, cracking and other serious consequences. While displaying cultural relics, museums should always bear in mind the important responsibility of protecting cultural relics and should not display them at the cost of damaging them. Cultural relics are non-renewable carriers of cultural heritage and should be protected at all costs.
  2.展柜的封闭性:封闭性能好的展柜可以有效地控制展柜的温湿度、防尘、防有害物质的侵入、保证空气的纯净度等,对于柜内文物的保护有着十分重要的作用。实际上,衡量展柜质量的好坏,封闭性能是其中一个比较重要的指标。对于书画、丝织品之类的文物,为了达到柜内恒温恒湿,展柜必须具有良好的封闭性。展柜只有在良好密封性的基础上,内部安装的温湿度自动侧定仪器和控制湿度的设备。才能发挥它最大的作用。
  2. Closure of the exhibition cabinet: the exhibition cabinet with good sealing performance can effectively control the temperature and humidity of the exhibition cabinet, prevent dust, prevent the invasion of harmful substances, ensure the purity of air, etc., which plays a very important role in the protection of cultural relics inside the cabinet. Actually, the stand or fall that measures exhibit ark quality, enclosed performance is among them a more important index. To the cultural relic such as calligraphy and painting, silks, in order to achieve constant temperature and humidity inside ark, exhibit ark must have good sealing sex. Only on the basis of good sealing, the display cabinet is equipped with automatic side setting instrument and humidity control equipment. To get the most out of it.
  3.展柜的防火性:防火是包括展厅、展柜等一系列有关陈列展览设施的必备的基本要求。特别是展柜,从它所用的材料、光照温度控制、防火条件等,均需要特殊考虑,要符合防火的专业标准。在预防的同时,要设置灭火系统及设备。不同的文物,灭火的设备不同,例如纸类文物适用于气体灭火,而决不能用水。随着科技的进步,现代化博物馆在防火配套设施的利用上,会越来越先进,更有利于文物的保护。有的展柜采用烤漆的防火板,烤漆看上去更加有档次,显得更加精美,而防火板更注重实用性,可以起到防火隔热的作用,建议用防火板。火板除了具备防火的功能外,同时可以做成木纹、石纹等各种饰面效果,复合展柜的颜色搭配。
  3. Fire resistance of exhibition cabinets: fire resistance is a series of necessary basic requirements for exhibition facilities, including exhibition halls and exhibition cabinets. Especially the display cabinet, from its materials, lighting temperature control, fire conditions, etc., all need special consideration, to meet the professional standards of fire prevention. At the same time of prevention, fire extinguishing system and equipment should be set up. Different cultural relics are equipped with different fire-fighting equipment. For example, paper cultural relics are suitable for fire-fighting with gas instead of water. With the progress of science and technology, modern museums in the use of fire supporting facilities, will be more and more advanced, more conducive to the protection of cultural relics. Some exhibit ark USES the fire prevention board that bake lacquer, bake lacquer looks more class, appear more exquisite, and fire prevention board pays attention to practical more, can have the effect of fire prevention heat insulation, the proposal USES fire prevention board. Besides the function that fire board has fire prevention, can make it at the same time wood grain, stone grain waits for all sorts of adornment effect, the color of compound exhibition ark matchs.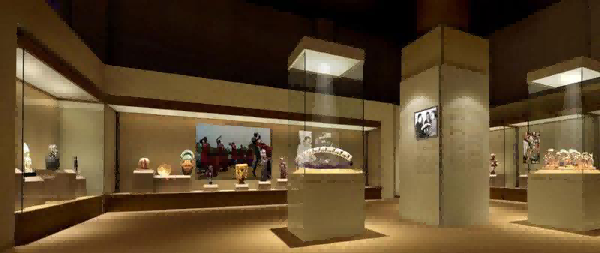 4.采光:从文物展示效果的好坏,在很大程度上取决于展柜的采光。从营造陈列展览环境及氛围,突出展示文物上,人工光源可以最大限度地掌握光源及光照度;光源博物馆的陈列采光照明主要有自然光、人工光和综合光三种方式。 那些对温湿度等要求较高的文物,展柜采光必须使用人工光源;而可以裸展的文物,可以利用自然光。博物馆展柜采 光,按来源分为自然光和人工光。
  博物馆陈列采光照明设计的光,主要是自然的太阳光或依靠电能由荧光灯、钨丝灯等发出的光。博物馆展柜应必须度绝使用由惰性气体产生的光源,光辐射按波长性质可分为许多区,其中包括可见光区波长(400—750nm)、红外光区(›750 nm )、紫外光区(‹400 nm)。其中人工光在陈列中的运用,被普遍认为是完全可以控制的理想采光方式。
  4. Daylighting: from the cultural relic display effect, depends on the daylighting of the display cabinet to a large extent. The artificial light source can master the light source and illuminance to the greatest extent by creating the display environment and atmosphere and highlighting the display of cultural relics. Light source museum's display lighting mainly includes natural light, artificial light and integrated light. For those cultural relics with higher requirements on temperature and humidity, artificial light source must be used for daylighting in exhibition cabinets; And artifacts that can be displayed naked can take advantage of natural light. Museum display cabinets are lit by natural and artificial light sources.
  Museum display daylighting lighting design of light, mainly natural sunlight or rely on electricity from fluorescent lamps, tungsten filament lamps and other light. Museum exhibition shelves should be must never use produced by inert gas source, optical radiation according to the nature of the wavelength can be divided into many areas, including the wavelength of visible light area (400-750 nm), infrared light (750 nm) holds, ultraviolet light (400 nm) ‹. Among them, the application of artificial light in display is generally considered to be an ideal lighting mode that can be completely controlled.
  5.开启:展柜的门一是要考虑安全性,另一方面是要方便工作。设计中要将展柜门的高度、宽度及位置等作为关键点,保证陈列展览的布展、撤展、调换文物或展品、展柜清洁等操作的安全、方便、快捷。采用不同的开启方式,设置不同的防盗功能,展柜的照明装置具有对展览品的保护功能,可以阻断紫外线和照明热,不开启展示柜门也能进行维修。
  5 open: the door of exhibit ark is to want to consider security, it is to want convenient job on the other hand. In the design, the height, width and position of the cabinet door should be taken as the key points to ensure the safe, convenient and fast operation of the layout, removal, exchange of cultural relics or exhibits and the cleaning of the display cabinet. Adopt different open means, install different prevent theft function, the illume device of exhibit ark has the protection function to exhibit article, can block ultraviolet ray and illume heat, do not open show ark door to also can undertake maintenance.
  6,优质的缓冲材料。展柜的放置台放置吸湿缓冲材料,此选择要求在展柜下层箱体中留出足够空间用于放置吸湿缓冲材料。
  6. High quality buffer material. The stand of the exhibition cabinet is equipped with hygroscopic buffer materials. This choice requires that sufficient space be set aside in the lower box body of the exhibition cabinet for the hygroscopic buffer materials.
  以上几个就是博物馆展柜设计的时候需要考虑的几个重要方面,希望大家在设计展柜的时候考虑其美观的同时,结合如上几点更加科学的结合设计理念生产出高品质的展柜产品
  The above are several important aspects that need to be taken into account when designing the exhibition cabinet of the museum. We hope that when designing the exhibition cabinet, we can consider its beauty and at the same time produce high-quality exhibition cabinet products by combining the above several more scientific design concepts